---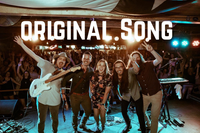 We will write you your own original song, and send a video of it being performed.  It could also be your own original song that you need help finishing. 
We will contact you via email to discuss the song topic.  Please write any info you have in the notes section during checkout. 
***NOTE - Not all original members may be available to be in the video/recording.  if you have any questions about this item, please email store@bluewaterhighwayband.com before purchasing.